Back to top
News and Announcements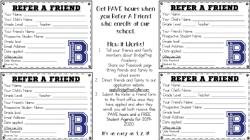 REFER A FRIEND TODAY!

I am so excited to announce the start of a brand new BridgePrep initiative.

Refer-A-Friend is an excellent way to spread the word about our awesome school, and allows both you and your friends to get something out of it.

Here's how it works:

1. Tell your friends and family members about BridgePrep Academy.
-Share our Facebook page
-Bring friends and family to school events

2. Direct friends and family to our application website. apply.bridgeprepcollier.com

3. Submit the refer a friend form to the front office, once they have applied and enroll, you will both receive five PAVE hours!

It's as easy as 1, 2, 3!