Back to top
News and Announcements
Student and Classroom Community Supply List
We can't believe it! Just 32 Days until the first day of school for all new and returning BridgePrep Bulldogs. We've prepared a list of supplies that will help get teaching and learning off on the right foot.

BridgePrep Uniforms

The 2019-2020 school year is quickly approaching...we can't wait to see you all in your BridgePrep gear!! Get your uniforms today!
#BridgePrepUniforms #BridgePrepAcademy #BridgePrepBulldogs

BPA Summer Spirit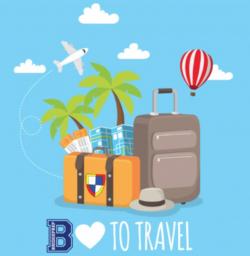 Show your BridgePrep spirit this summer.
Rock your BridgePrep wear and share using the hashtags
#BPATravels and #BridgePrepTravelers
Let's see how far we'll go! ;)

Order Pictures Today!
Student and Class Picture order forms went home last week. Place your order now, it's not too late.

End of Year Celebration
It's that time! Time to recognize all the great students, faculty and staff at BPA. We've had an amazing inaugural year. All current BPA families are invited to join us for dinner, followed by an awards night on May 29th. There will be a special surprise performance by our teachers and staff. Don't miss it!

May Activity Calendar!
It's time to celebrate! Another school year has come and gone.

REFER A FRIEND TODAY!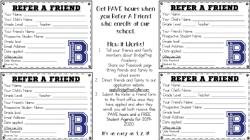 I am so excited to announce the start of a brand new BridgePrep initiative.

Refer-A-Friend is an excellent way to spread the word about our awesome school, and allows both you and your friends to get something out of it.

Here's how it works:

1. Tell your friends and family members about BridgePrep Academy.
-Share our Facebook page
-Bring friends and family to school events

2. Direct friends and family to our application website. apply.bridgeprepcollier.com

3. Submit the refer a friend form to the front office, once they have applied and enroll, you will both receive five PAVE hours!

It's as easy as 1, 2, 3!

New Report Finds Florida Charter School Students Consistently Outperform Their Peers in Traditional Public Schools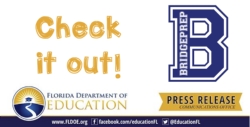 The Florida Department of Education has found that Florida Charter School Students outperform students in traditional public schools. Read all about it in the FLDOE Press Release.

April 2019 Activities Calendar
Looking forward to the spring time activities planned for the month of April!

BPA Bulldog Ballerinas
We have a great Ballet programs going with Ms. Wendy! Join us, Wednesdays, 3p (K-2) or 4p (3rd-6th).